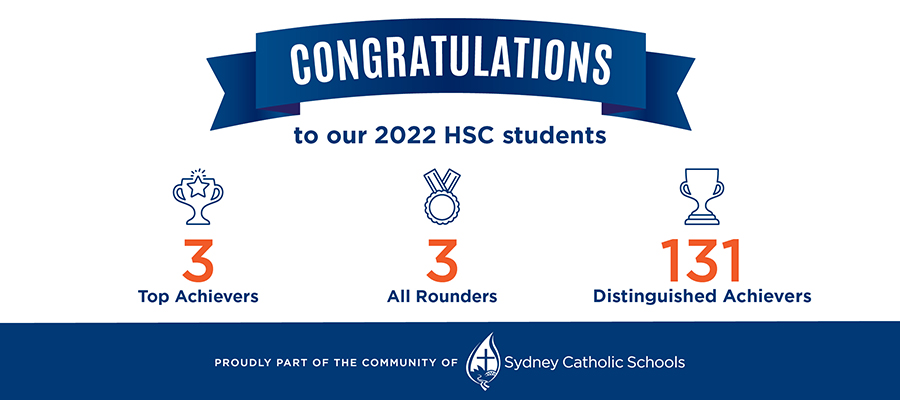 Congratulations to the Aquinas College Menai Class of 2022 on your outstanding HSC results! 
Our school climbed eight positions to 89th in The Sydney Morning Herald rankings (derived from the HSC 2022 Merit Lists, using the Band 6 Rate).
We also recorded 131 Distinguished Achievers, three All Rounders and three Top Achievers.
Additionally, 96.6% of courses were above state average, with 62% of courses more than 5% above state average and three courses more than 10% above state average. 
The college recorded excellent results in Mathematics, as the school ranked 17th in Mathematics Standard 2 (the highest in Sydney Catholic Schools) and 32nd in Mathematics Extension 1 and 2.
Aquinas principal James Clancy congratulated Year 12 on their fantastic efforts. 
"These are the College's strongest HSC results and for the third consecutive year Aquinas is the top performing comprehensive school in the Sutherland Shire," Mr Clancy said. 
"It's a fantastic achievement and a reflection of the sustained effort, collaboration and perseverance demonstrated by our students and staff with the committed support of family and friends.
"We are extremely proud of the Class of 2022, including our students who undertook a workplace/training (non-ATAR pathway) and have secured apprenticeships, full time employment or further vocational study," he said. 
System success 
Sydney Catholic Schools has achieved outstanding results in the 2022 HSC with nine of its 33 schools ranked among the top 100 high schools in NSW.
 A total of 17 schools ranked among the top 150 secondary schools, underlining Sydney Catholic Schools' position as one of the top performing systems in Australia. 
 Sydney Catholic Schools recorded an impressive 2630 Distinguished Achievers, 66 Top Achievers and 58 All Rounders. 
Aquinas College Menai 2022 HSC Results
Here's a recap of our 2022 HSC highlights:
Ranked

89th

in the state

131

Distinguished Achievers – lists the students who achieved a result in the highest band (Band 6 or Band E4) for one or more courses, not including results for courses studied external to their school

Three

All Rounders – number of students scoring above 90 in at least 10 units

Three

Top Achievers – student(s) who achieved one of the highest places in an HSC course or VET examination and also achieved a result in the highest band (Band 6 or Band E4)

96.6%

of courses were above state average